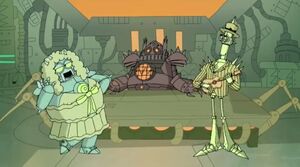 The Feelings Song is a song that was sung by Thrasher and Blastus in the episode "No Child Left Benign."
Lyrics
[
]
Thrasher: Hugs and kisses rainbows and rings.
You're as pretty as a butterfly's wings.
Blastus: I do declare you a gentle sir.
Your sweetness is strong. It makes me womanhood stir.